Escape the everyday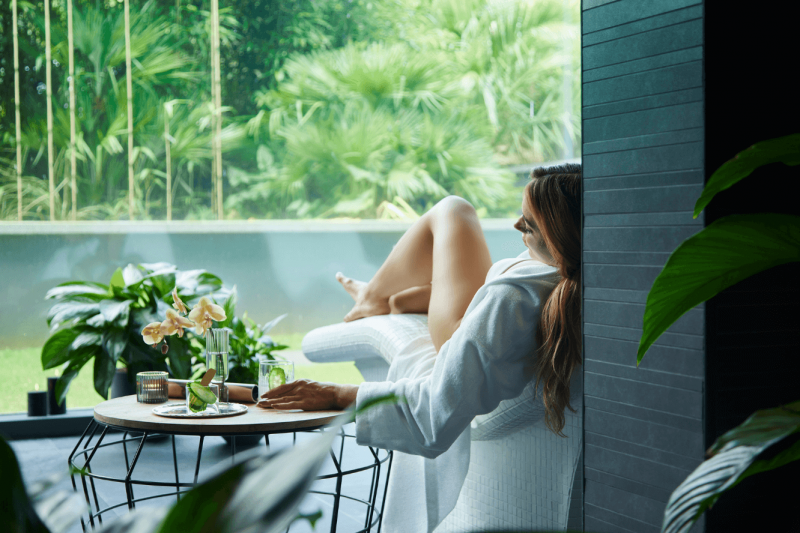 Experience Ultimate Relaxation at Multi-Award-Winning Oceo Spa.
Discover a sanctuary of serenity nestled within Seafield Hotel & Spa Resort. Our spa is designed to transport you to a world of tranquillity, where the pressures of daily life fade away.
Immerse yourself in the soothing ambiance of our thermal suite. Unwind on our serene relaxation lounges, soak in the therapeutic qualities of our hydrotherapy pool and outdoor vitality pool and surrender to the rejuvenating heat of our saunas and steam rooms.
Pamper yourself with an array of lavish treatments tailored to your specific needs. Our comprehensive Spa Treatment Menu offers a wealth of options to cater to your desires.
Unwind, rejuvenate, and embrace the harmony that awaits you.
Hotel guests can relax with one complimentary Two Hours Thermal Suite Experience per day. Ensure you pre-book a visiting time to guarantee your slot.
Enhance your Oceo Spa Experience by booking a treatment from our Select Treatment Menu, subject to availability, or treat yourself to your favourite Payot, Elemis, OTO & Neom Products. These can be purchased at the spa reception or on our Online Shop.
If you are a regular visitor to Oceo Spa, why not become an Oceo Spa Member.
Oceo Spa is open daily from 8am-8pm. To enquire about availability at our Oceo Spa, simply call +353 (0)53 94 85120 or email our team on oceospa@seafieldhotel.com
Please be advised for safety reasons, children under 18 are not permitted to use the Gym and Children under 16 are not permitted to use the Thermal Suite Areas. Please read Oceo Spa Information before your visit.
Read More